29.05.19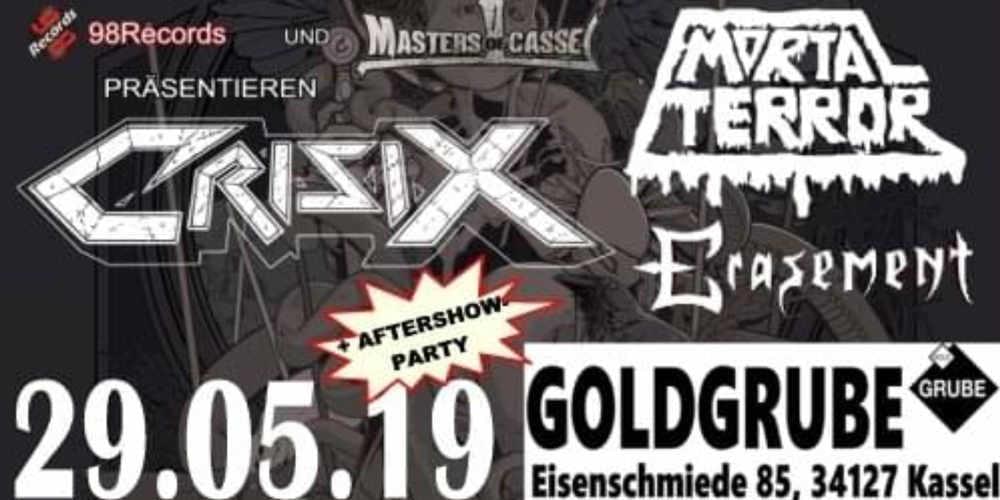 Masters Of Cassel + 98Records präsentieren
Crisix + Mortal Terror + Erasement in Kassel

Live in der Goldgrube am 29. Mai 2019 29.05.19 in Kassel, Goldgrube
Tickets zu Crisix + Mortal Terror + Erasement in Kassel
Kassel
---
Informationen
MASTERS OF CASSEL und 98RECORDS PRÄSENTIEREN:

- Crisix
- Mortal Terror
- ERASEMENT
29. Mai 2019 in der Goldgrube in Kassel

Am Vorfeiertag zu Christi Himmelfahrt thrashen wir uns durch ein fettes Programm. Als Headliner des Abends konnten wir die jungen Wilden von CRISIX gewinnen. Die Jungs aus Barcelona sind eine der besten und aufstrebendsten europäischen Bands im Thrash Metal und haben schon viele Bühnen in Schutt und Asche gelegt. Wir freuen uns sehr auf die Spanier, die ihr 2018er Werk "Against the Odds" mitbringen werden.
Die beiden Supportbands kommen hier aus der Region: Zum einen Kassels (und Hann. Mündens) Thrash Metal Fraktion Nummer eins MORTAL TERROR, die im 33. Jahr ihrer Existenz ruppiger und bestialischer denn je sind - und zum anderen ERASEMENT aus Bad Lauterberg, die Thrash in the Veins of the 80s/90s zocken und gern mal mit Death Angel oder Testament verglichen werden.
Einlass 20:00 Uhr, Beginn ca. 20:30 Uhr.

Tickets kosten im VVK 12 Euro (+ Vorverkaufsgebühren) und an der Abendkasse 15,50 Euro.
CRISIX (Thrash Metal / Barcelona)